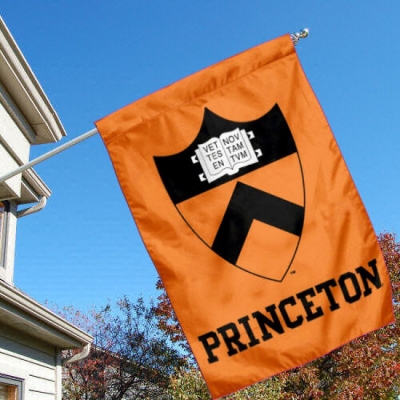 From evening runs along Carnegie Lake to getting ice cream out on Nassau Street, here is a glimpse into a day in my life as a student at Princeton University.
8:30 AM - Wake Up!
My first alarm goes off, and (spoiler alert) it won't be my last.
My roommates and I call this 8:30 alarm our "aspirational alarm."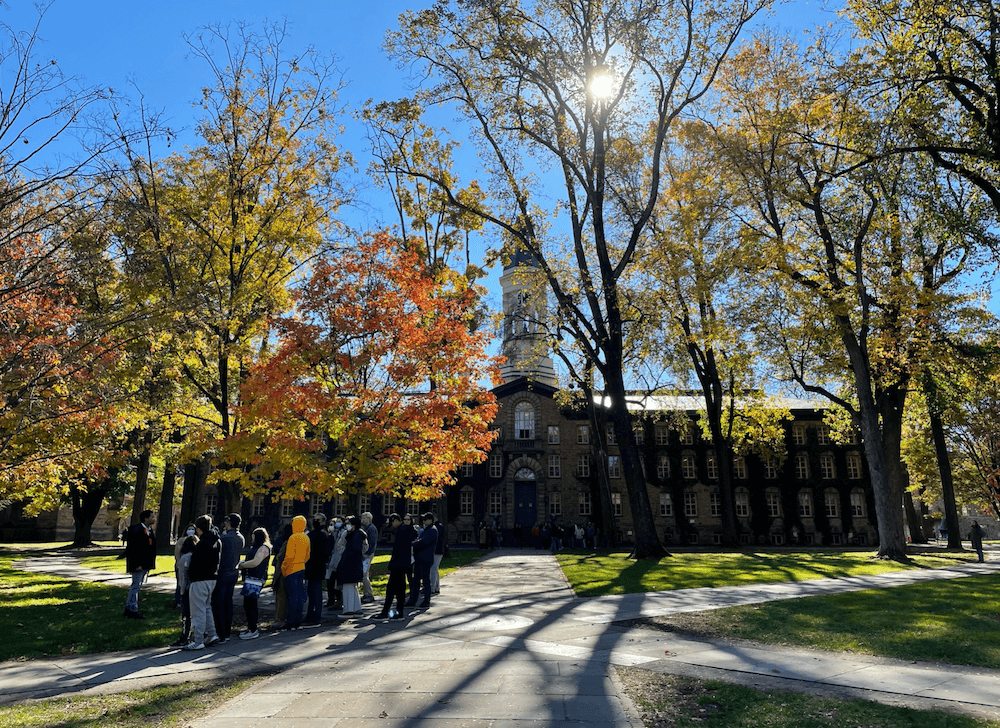 A tour group outside of the famous Nassau Hall
Unlike high schools, colleges tend to give you a lot more flexibility when scheduling your classes.
Thus, virtually the entire student body has come to the conclusion that one should never sign up for a class before 10AM.
Nights are often buzzing with social activity on campus, with many of the extracurricular activities running late into the night -- it's not uncommon for student dance groups to end practice around 1am.
So, hopefully you can understand when I press snooze for another 30 minutes.
9:00 AM - Breakfast at My Eating Club
I get up and start the day with a walk across campus to Prospect Street or, as it's known on campus, simply "The Street".
Prospect Street is populated with numerous mini-mansions that serve as a unique facet of Princeton social life - eating clubs.
What is an eating club?
Eating clubs are social clubs where upperclassmen students take their meals, study and spend time with their friends, and are the site of weekend "nights out" aka parties.
I happen to be a member of the Tiger Inn or "TI," for short.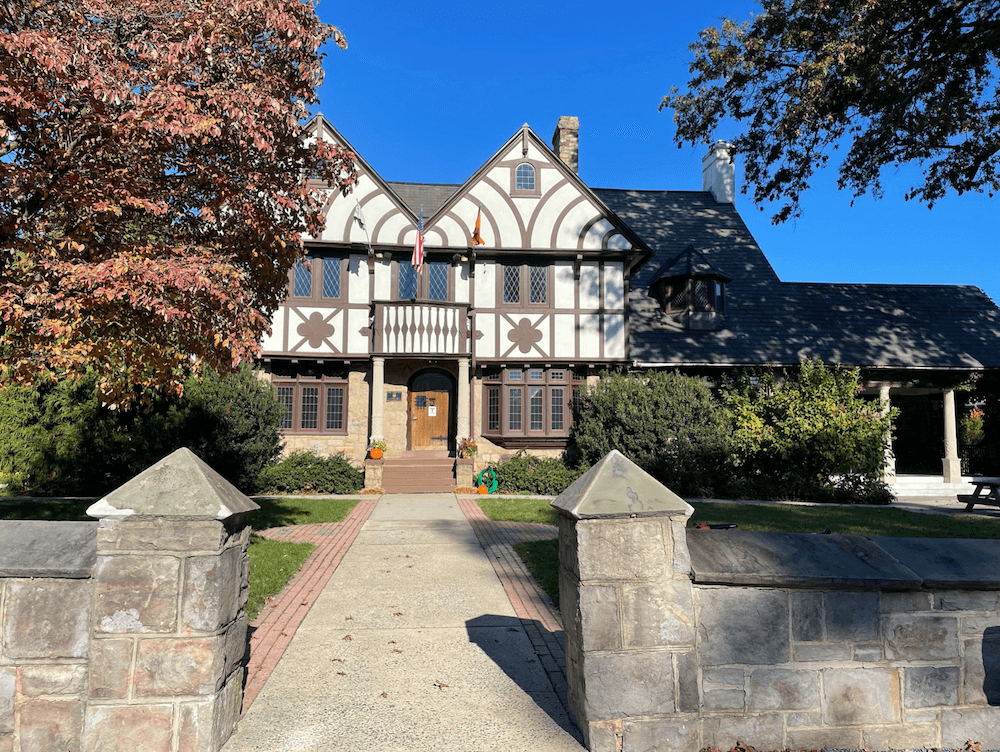 The front of the Tiger Inn eating club
While each eating club is known for attracting students with a certain type of personality, I would say TI is composed largely of outgoing students, with a large proportion of student-athletes, who don't take themselves too seriously and are always looking to meet new people. That translates to our dining room policy of taking the empty seat next to whatever group is already eating at one of our long tables, as opposed to sitting at a new table.
At TI, the company is superb and so is the breakfast. One of my favorite things about TI is that there is always an abundance of fresh berries and homemade french toast in addition to our omelette bar.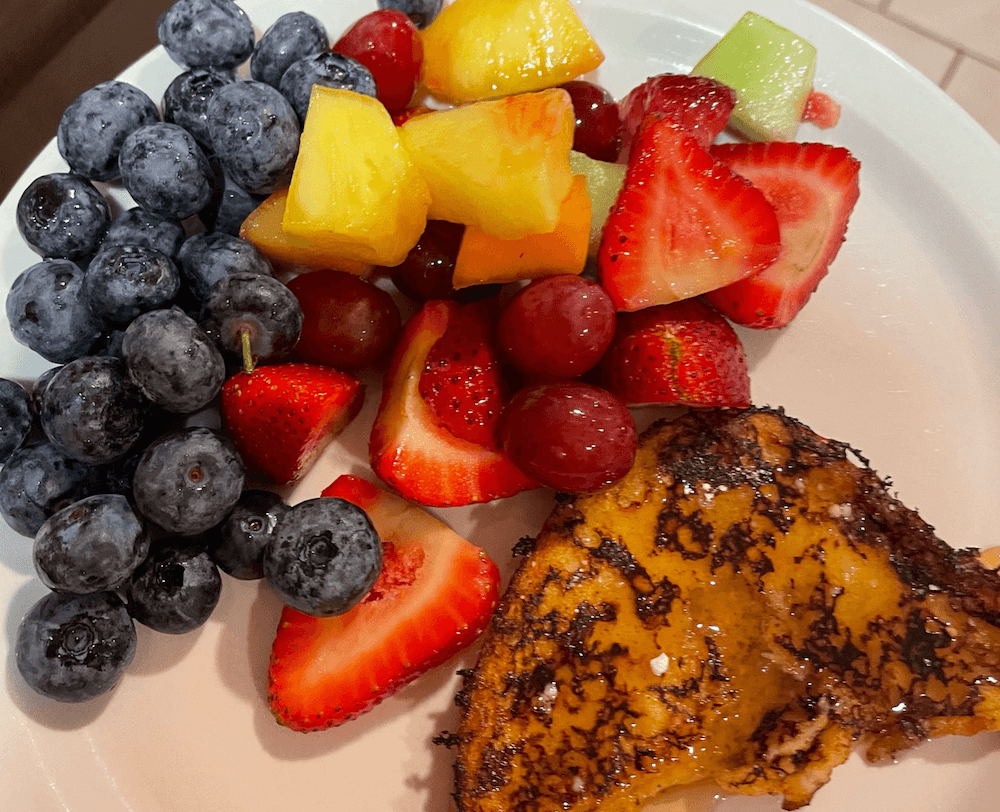 Breakfast is the most important meal of the day!
10:00 AM - 1st Class: Environmental Policy
After breakfast, I head to my first class of the day - a course covering environmental policy.
It is taught through the Princeton School of Public and International Affairs, formerly known as the Woodrow Wilson School.
In the fountain directly outside of the building you can often find people taking a moment to relax or, during events known as "lawnparties," actually taking a dip in the fountain.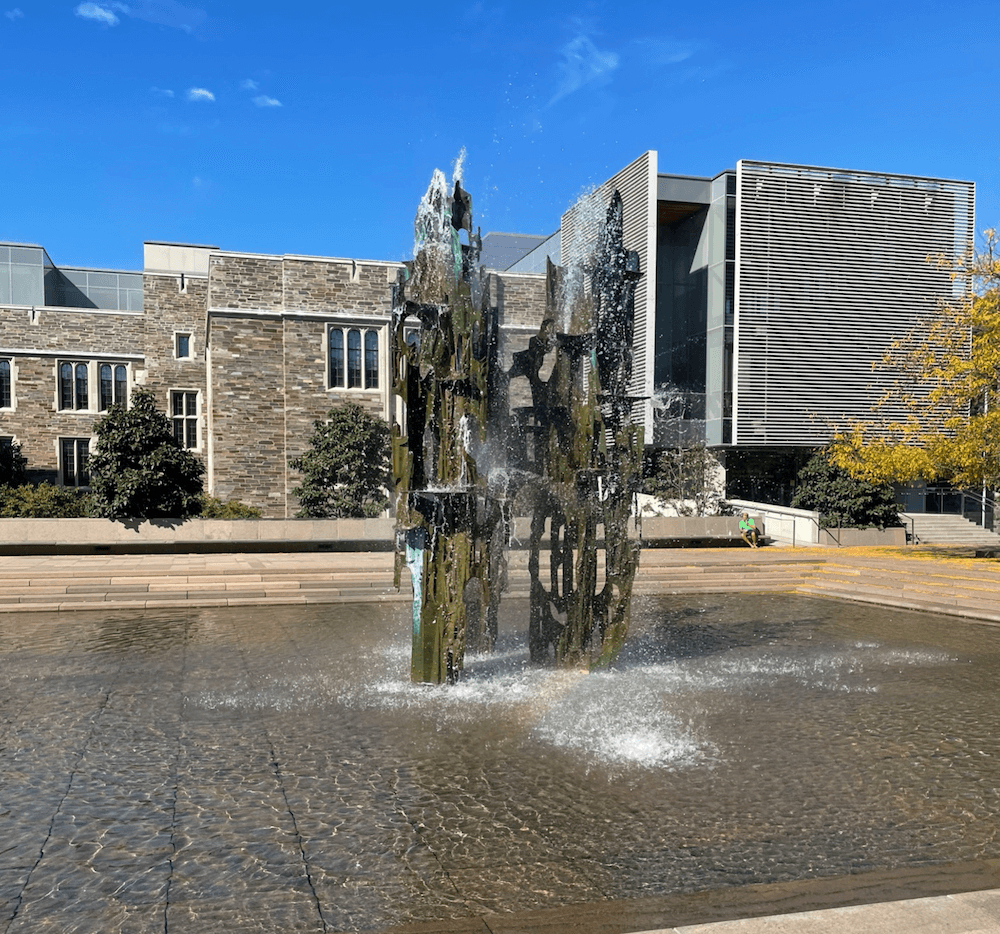 A picture of SPIA fountain
11:00 AM - 2nd Class: Practical Ethics
Next, I head to my second class of the day: "Practical Ethics," taught by the world-famous moral philosopher Peter Singer.
Taking this class is almost a right of passage for undergraduates.
The material covers various approaches to a host of topics in ethics, ranging from animal rights to bioethics. The class is taught in McCosh Lecture Hall , a building that hosts many of the large introductory lectures familiar to Princeton students (such as Macroeconomics 101).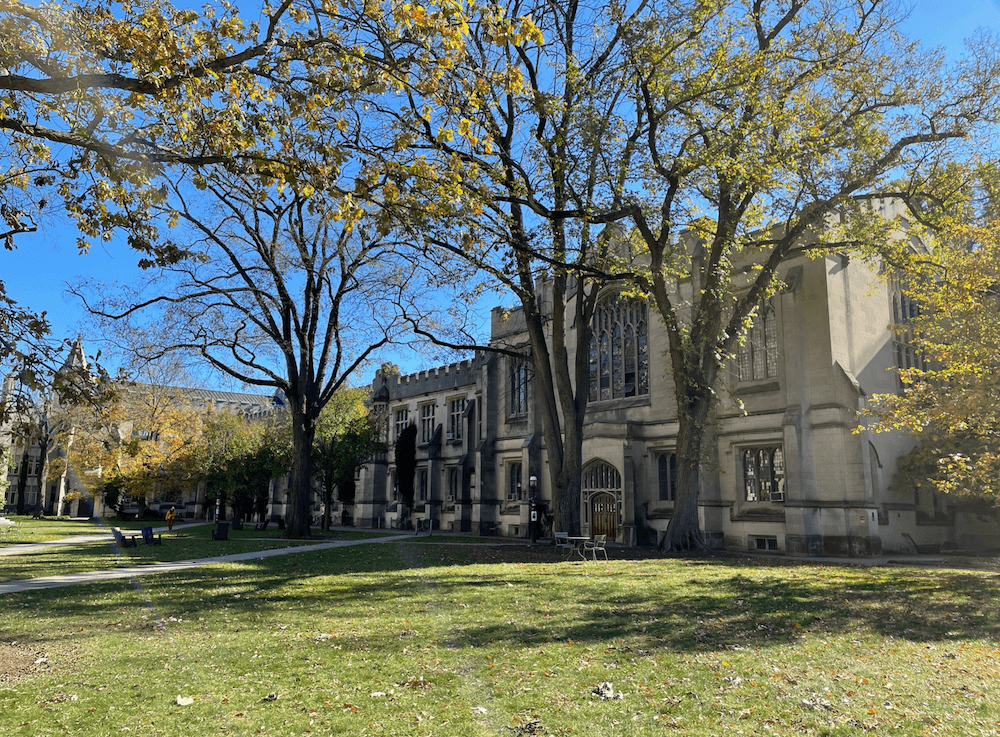 McCosh Lecture Hall, not to be confused with McCosh Health Center
11:50 AM - Coffee Break
After pondering a few ethical questions, I head back over to "The Street" for an uneventful lunch before going to get coffee at Small World (a local coffee shop frequented by Princeton students).
Many senior theses have been powered by the delicious smell and caffeine rush of Small World. I can assure you that the line is well worth the wait.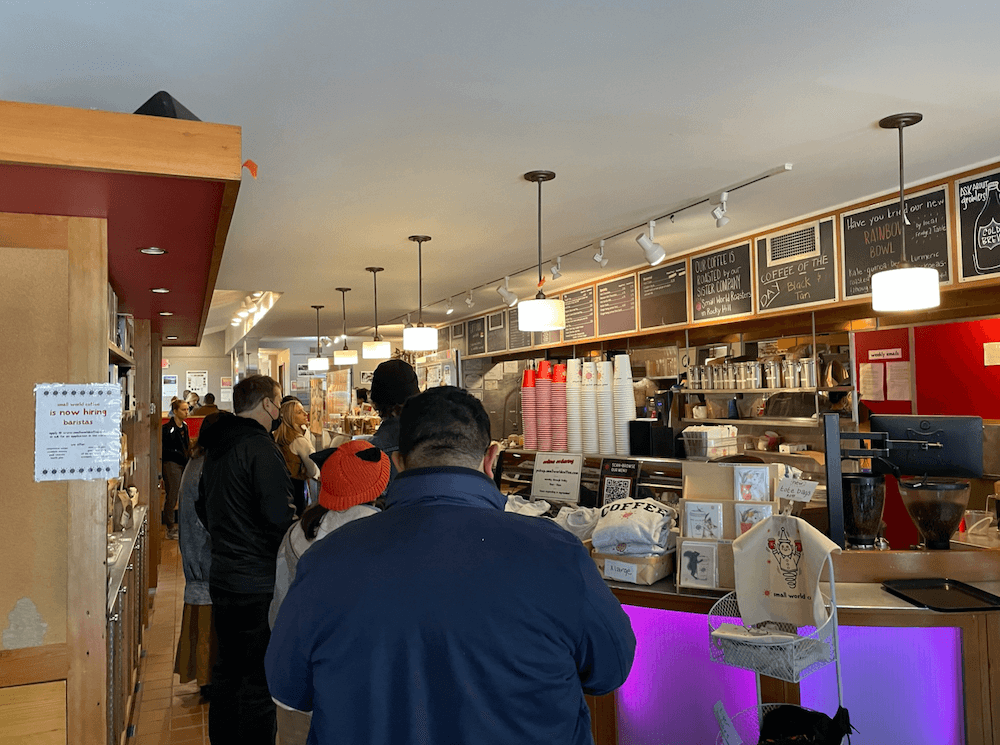 Line for coffee at Small World
12:50 PM - Back to Campus
I slowly make my way down Nassau Street (the main street in front of the university) back towards the main entrance to campus through the FitzRandolph gates.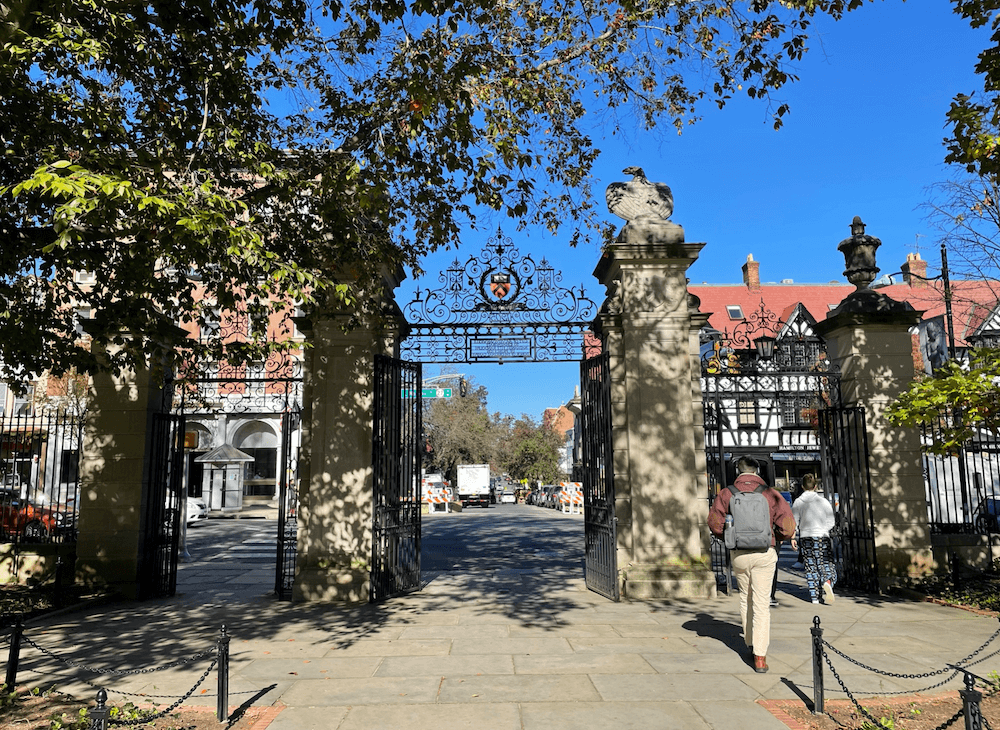 FitzRandolph gates
As you can see, students try to avoid passing through the main entrance of the FitzRandolph gates. Student lore has it that if you pass through the center gate, you will not graduate.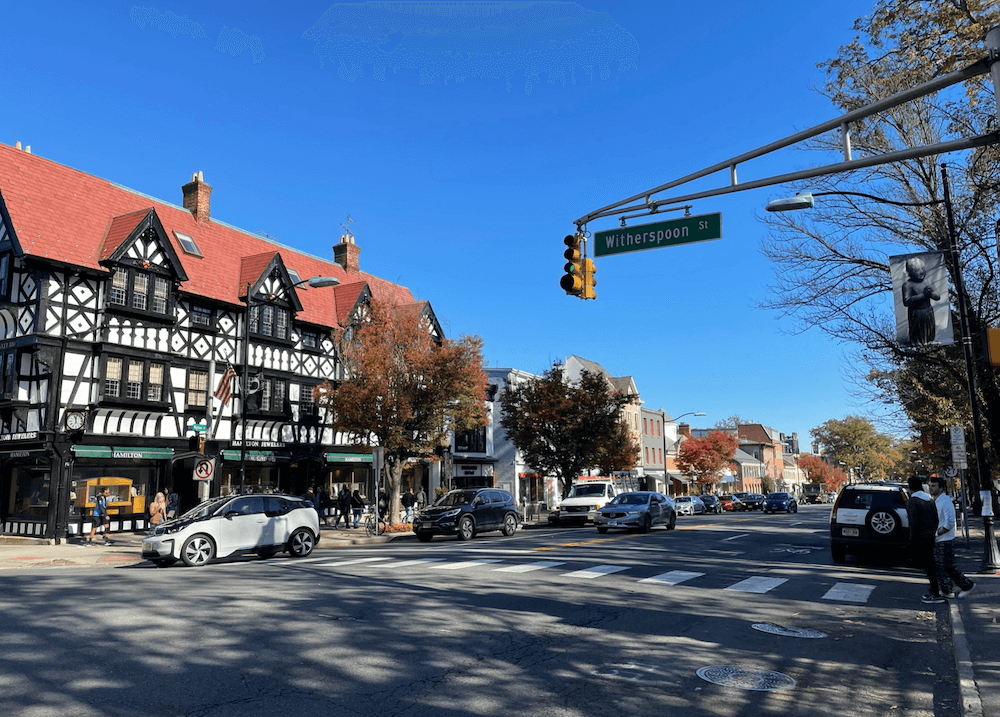 A view of Nassau Street
1:00 PM - Studying in Firestone Library
I soak up a few sun rays before hunkering down to study for a few hours in Firestone Library.
By the time graduation rolls around, every student will have chosen a favorite location to study on one of this library's many levels and extensive corridors of study rooms.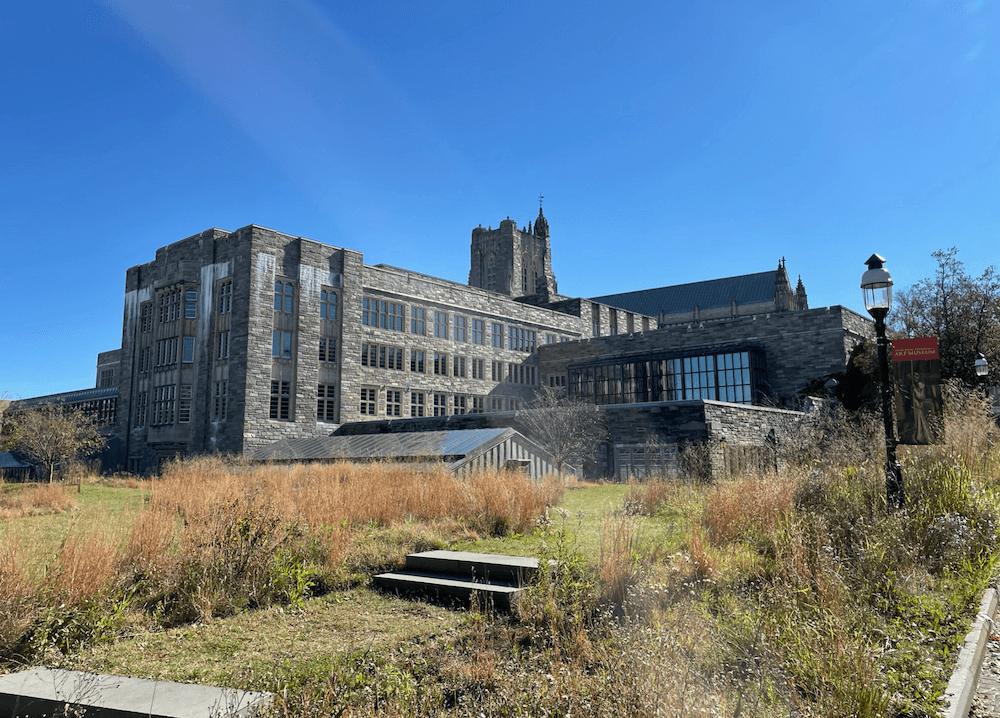 A glimpse inside Firestone Library
3:00 PM - Sports Practice
I row for Princeton's varsity women's crew team, and spend many hours outside of class each week practicing for races.
Twice a week we have a training lift that starts at 3:30pm, and it's a bit of a hike down campus so I make sure to get an early start on walking over.
However, the hike is well worth it in order to have the privilege to row in such a beautiful location.
The boathouse also holds a special place in all Princeton rowers' hearts for the community that it fosters with four rowing teams (Women's Openweight, Women's Lightweight, Men's Lightweight, and Men's Heavyweight) all practicing in the same place.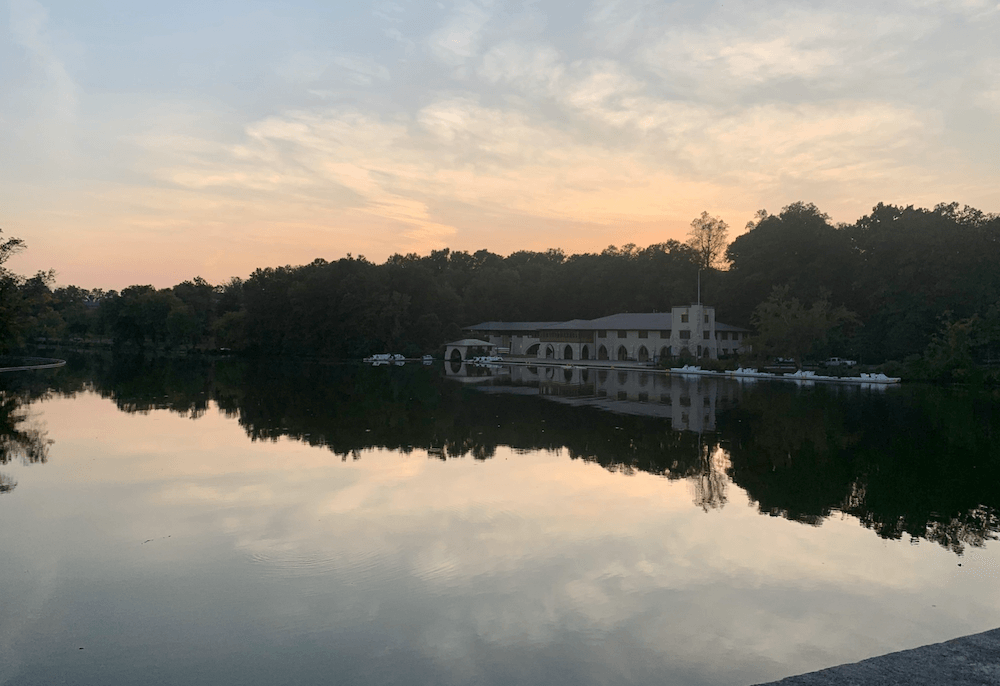 Shea Rowing Center
7:00 PM - Dinner
After a nice, long row, stretch, and shower at the boathouse, I make the trek back up campus towards Tiger Inn for dinner.
There, I get a chance to catch up with friends whom I hadn't been able to see that day.
8:00 PM - Study Time, Part 2
No matter how much you study, there's always more studying to do. At least it sometimes feels that way.
After dinner, I find a cozy place to study by the fire in one of the Tiger Inn common rooms known as "the green room."
9:00 PM - Club Meeting
Once I finish submitting the homework due that night, I head to a meeting for the campus organization Athletes in Action , or "AIA" as it's commonly referred to.
AIA is a community oriented Christian group composed of varsity student-athletes and meets once a week, where we take time out of the day to reflect on the role of faith and service in our lives.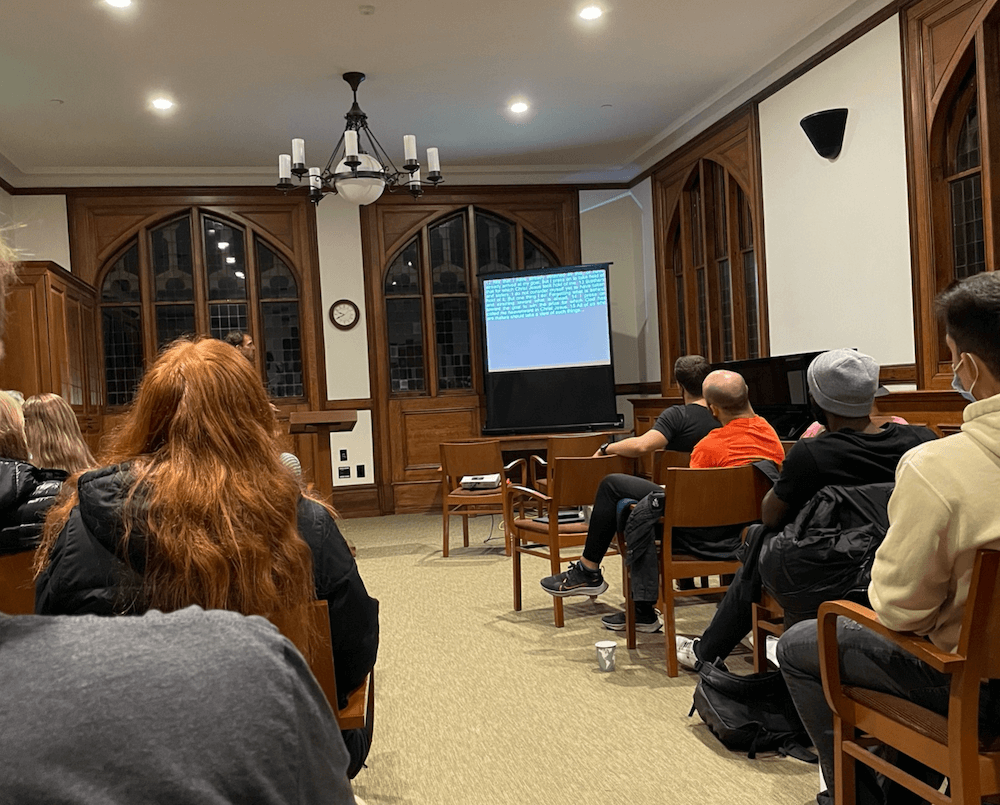 An AIA meeting
Regardless of your individual interests, with over 300 active student groups and clubs on campus there is bound to be one that can help you find your sense of community at Princeton.
9:55 PM - Ice Cream!
After the AIA meeting ends, a couple of friends and I dash over to a nearby ice cream shop to satisfy our sweet tooth.
I say "dash" because nearly everything in the town of Princeton closes at around 10pm, so either good planning or speed-walking are highly necessary skills.
10:30 PM - Bedtime
Ice cream in hand, I finally head home for the day to catch up with my roommates about the day's events and get a bit of sleep before doing it all over again tomorrow.
If you're interested in potentially joining me at Princeton or learning more about how to get into a university like Princeton, feel check out our 1-on-1 college admissions mentoring services here !