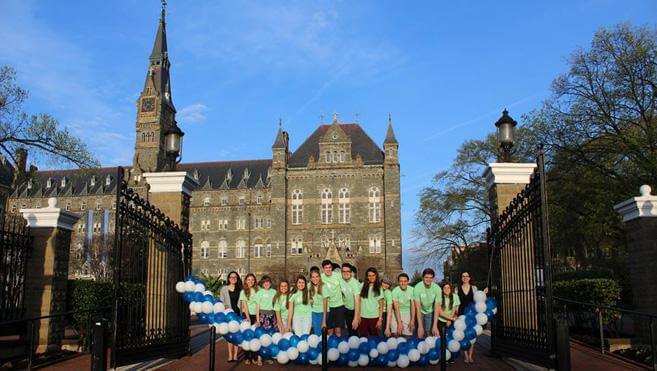 Writing the "Why Brown?" or "Why Stanford?" or "Why Harvard?" essay is the same as writing pretty much any "Why this school?" application essay: no one can tell you why to choose a school but you.
For example, when writing my "Why Georgetown?" essay, I talked about a nose bleed I got in their school store when visiting.
This was a pretty bad nose bleed that caught me by surprise and went all over the floor, even on the jacket I was attempting to buy.
Already nervous about visiting the school, causing such a problem was the most embarrassing possibility to add to the mix.
To my delight, though, store workers (who were students) rushed over and brought me tissues and showed me where the bathroom was to clean up.
Upon coming out, I was ready to help with the cleaning, but the students had already done so and even had grabbed a new jacket for me.
Needless to say, this left an incredible mark on me of how caring and kind the students at Georgetown were. Rather than making a big deal out of an already bad situation for me, they took off the stress and just thought to help me.
That story could never be told by any other applicant. It was unique to me and shared a light-hearted anecdote that highlighted what I valued in a school community, and how Georgetown would provide that.
Even my interviewer expressed appreciation of my story and wrote about it even more in his report to the school. Telling stories like these awakens readers' own love for their school.
The importance of this example is that I did not write about how many resources are at the school, or how great their faculty are. Georgetown already knows that it is great; the admissions officers don't need nor want you to tell them about that.
These schools want to know why their specific campus fits who you are and your life journey.
Personal stories will always be more effective at this than generic encomia.
Answers about how great the academic program is, how beautiful the campus is, or how generous the financial aid is will not win over readers, even though that's what many schools point out on their "About Us" webpages.
Answering "Why Us?" requires introspection about what makes you love that school.
It can be a particular program that fits perfectly into your passions, or maybe it's how students make you feel accepted unlike any other place in the world. Until you find this answer, the best essay will not come out of you.
At the end of the day, "Why Us?" is really "Why You and Us?," and can only be answered by a story so personal to you that no other applicant could have written it.