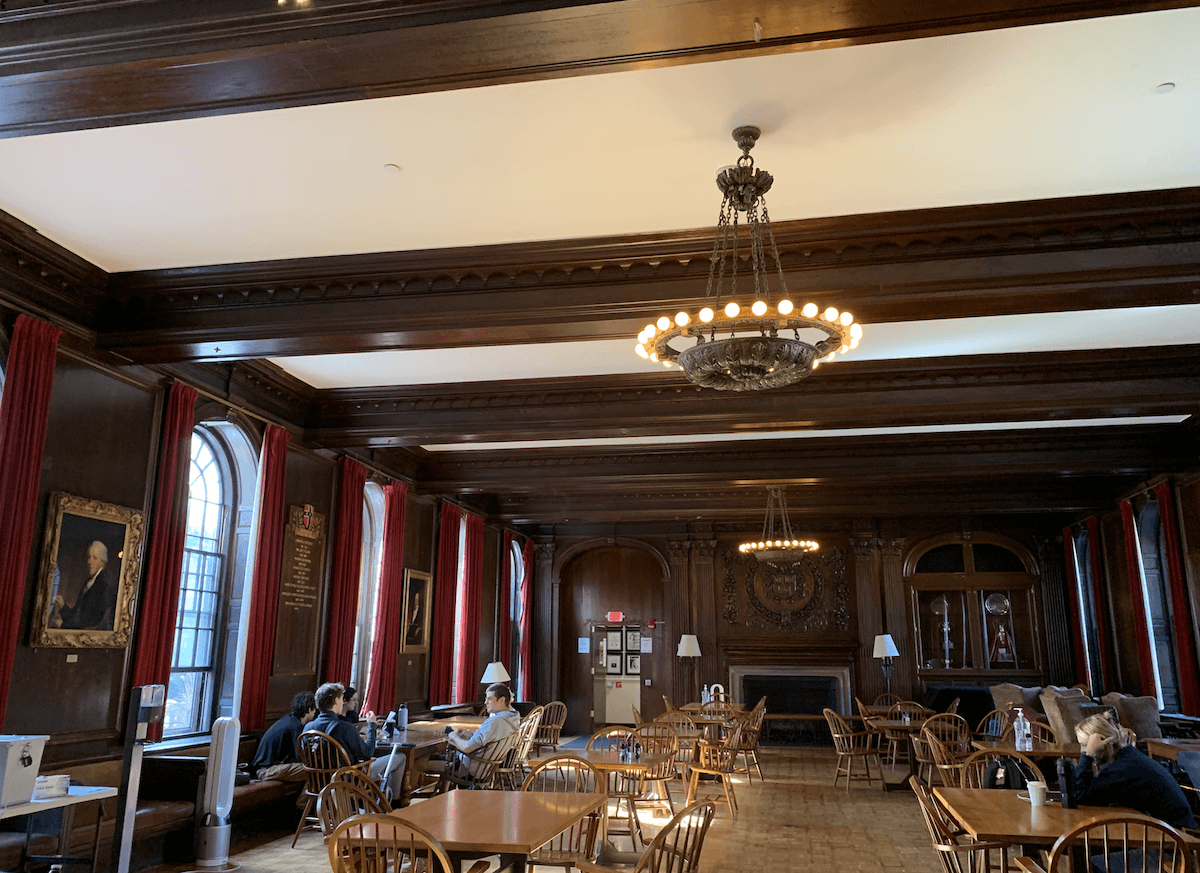 What follows is an hour-by-hour account at what a typical day in my life as a Harvard undergrad looks like!
8:00 – 8:45 am: "Veritaffle" in the Kirkland House Dining Hall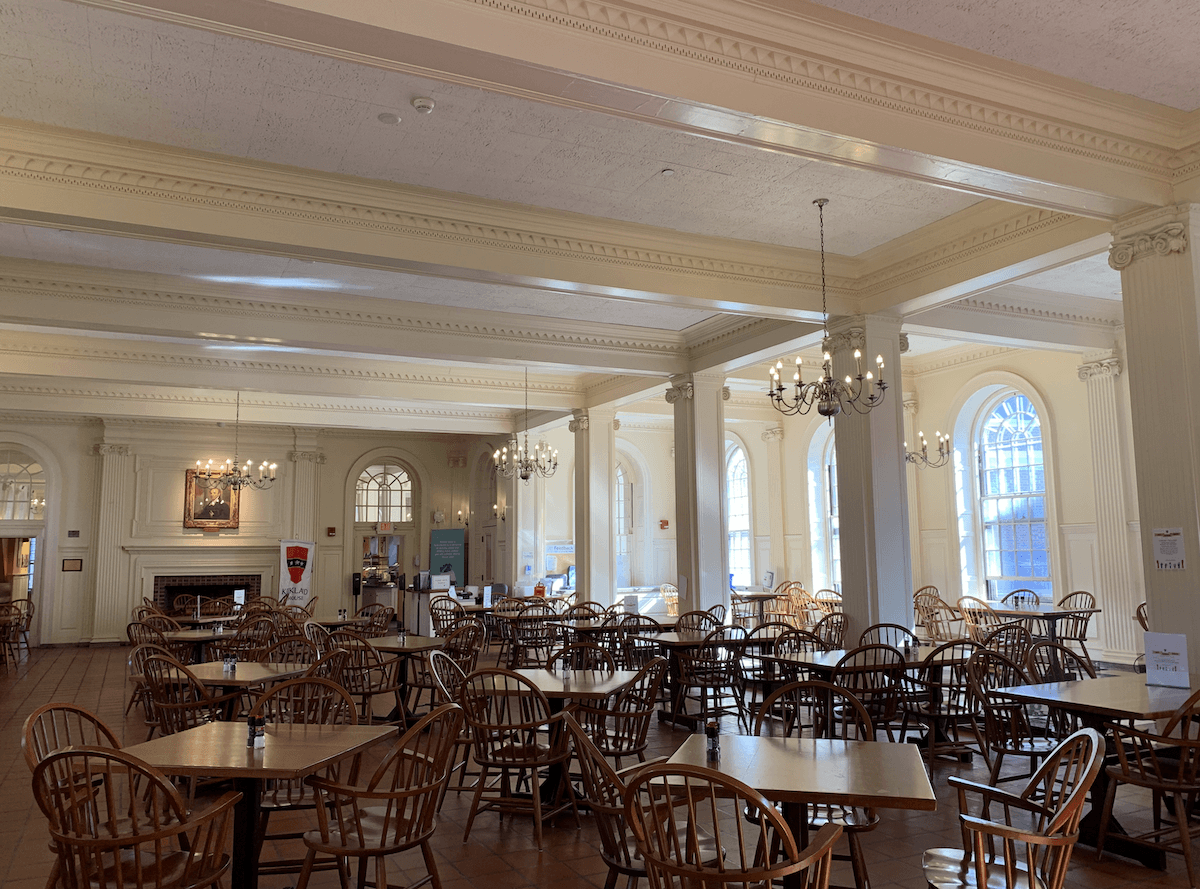 Breakfast is the most important meal of the day for a reason, but you wouldn't know that observing Harvard students -- only about 40% of us attend breakfast, according to Harvard's Undergraduate Dining Services!
The house that I live in, Kirkland , has a dining hall with lots of to-go options including all of the cereal you could ever want (like Marshmallows & Stars, a Lucky Charms knock-off), bagels (aka rolls with holes), and fruits (the apples are my go-to).
Virtually all upperclassmen live on campus in one of 12 houses. You're randomly sorted into a house during your freshman spring semester, and you then live in that house for the remaining three years of your Harvard career.
My house, Kirkland, is known as the smallest house (but most spirited!)
The Kirkland dining hall is usually pretty empty in the morning, which makes it easy to find a seat next to whomever I go to breakfast with!
As a nice little touch of Harvard, each upperclass dining hall has a machine that makes waffles with the Harvard "Veritas" logo. Waiting to see if the clumpy mess of waffle batter turns into a beautiful Harvard-themed waffle is truly the highlight of my week.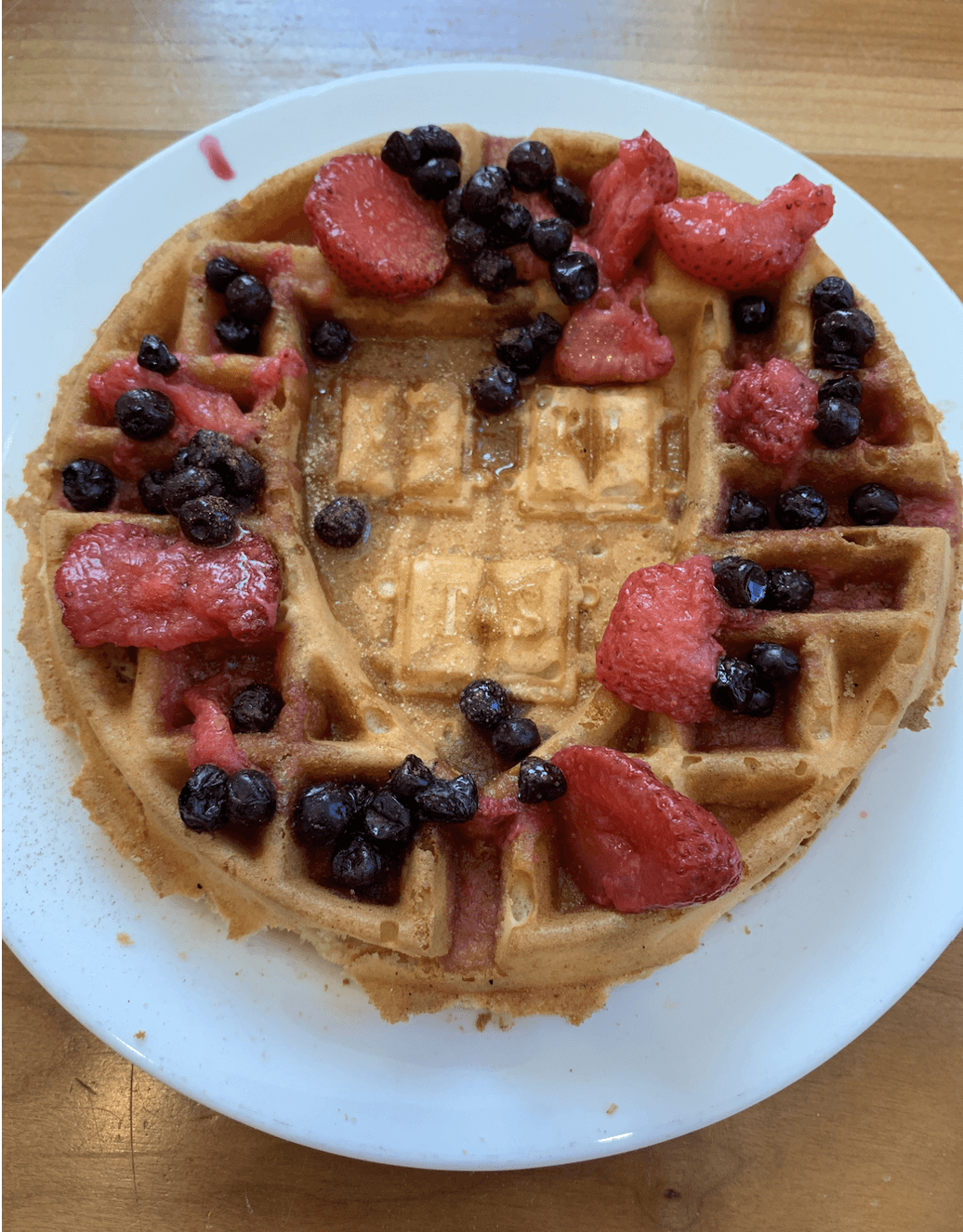 I like adding strawberries, blueberries, cinnamon sugar, and a little bit of syrup to my waffles. Getting one of these "Veritaffles" is a Sunday morning tradition for many Harvard students.
9:00 – 10:30 am: First class of the day -- Hist 1155: Early Modern Europe
After breakfast, I walk to my first class of the day: Hist 1155: Early Modern Europe , which is located in historic Emerson Hall. I usually try to get to class at least 15 minutes early so I can sit wherever I want.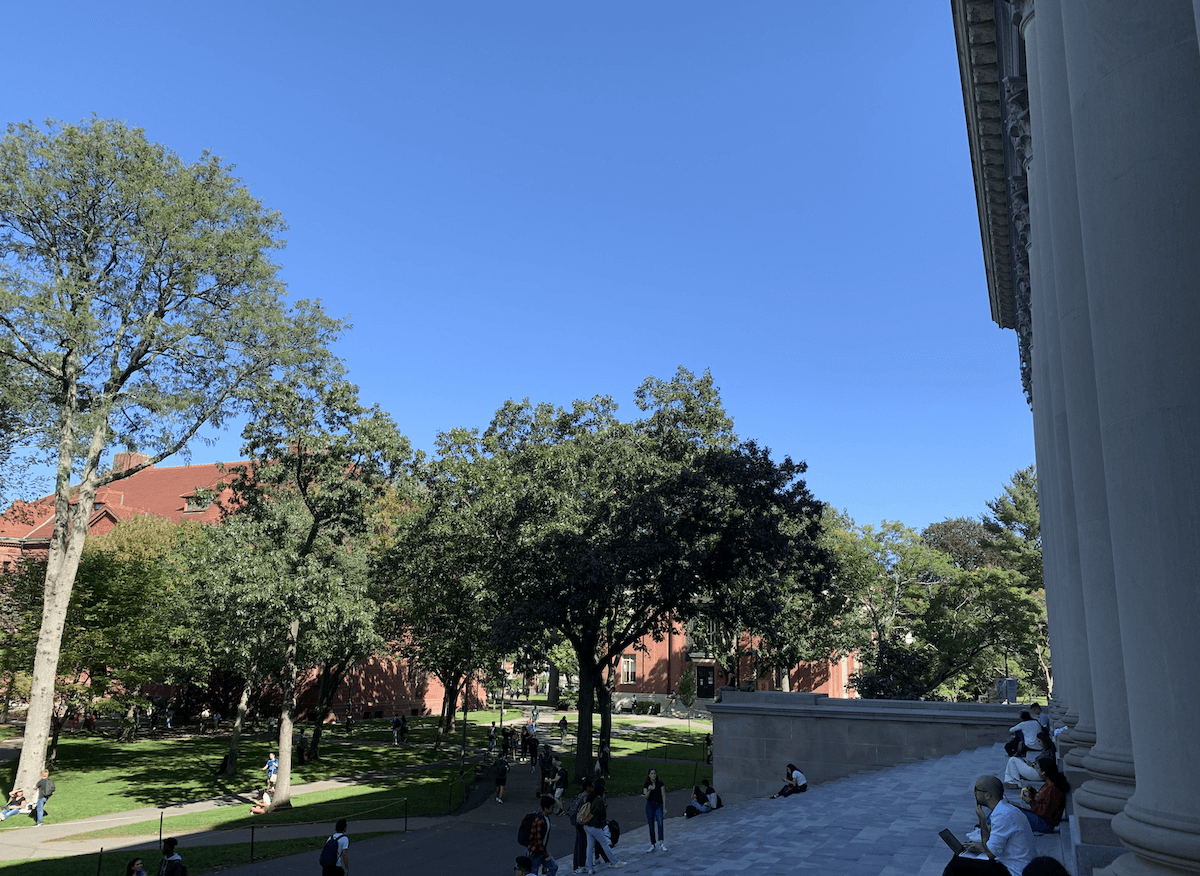 On the way to class, I passed by Widener Library (view from the steps pictured above) and accidentally walked through a few tourists' pictures. Walking through tourist pictures is both a rite of passage and a given when walking through Harvard Yard. There are a lot of tourists and it can be hard to dodge them all.
Today in Hist 1155, we had a lecture on the Urban Revolution and looked at a number of primary sources detailing personal experiences during the plague. Most lecture classes I'm in consist of the professor presenting a PowerPoint presentation and students participating by asking or answering questions.
10:30 – 11:45 pm: On to Spanish 20
After Hist 1155, I headed to my Spanish class right next door in Sever Hall at 10:30 am.
I decided to take a quick stroll around the yard before heading off to class.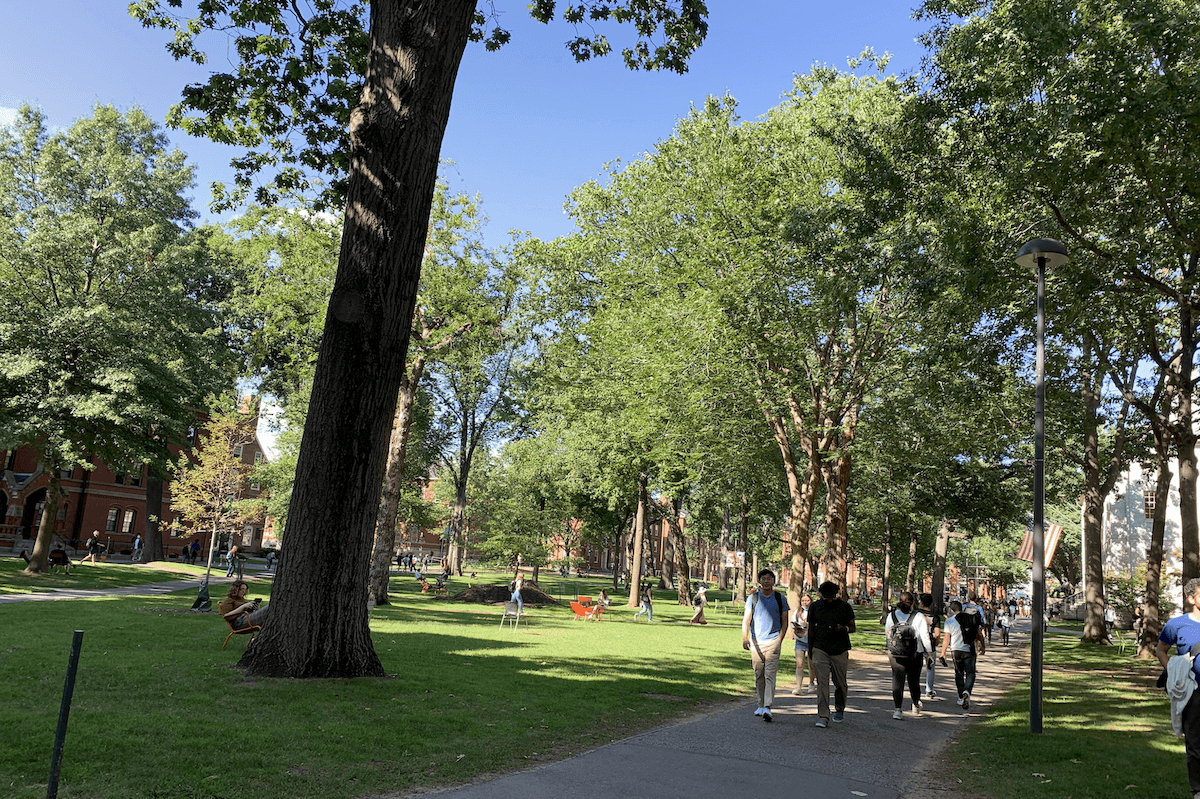 Spanish class is definitely one of my favorite classes this semester.
In high school, I got to know my classmates because we took many of the same courses together.
However, it can be harder to get to know classmates in college because everyone takes such different courseloads. Since Harvard has a language requirement, I'm in a class with people from a number of other "concentrations" (Harvard's word for a "major") that I might have otherwise not have been able to meet.
Today, we read "La Familia" by Rigoberta Menchú and learned about her activism work.
12:00 pm – 1:15 pm: Next up, SUP 206: The Causes and Consequences of Inequality
I decided to cross register at the Harvard Kennedy School with a friend to fulfill my last economics elective.
The Kennedy School, or "HKS", is Harvard's graduate school for government and public policy, and is pictured below.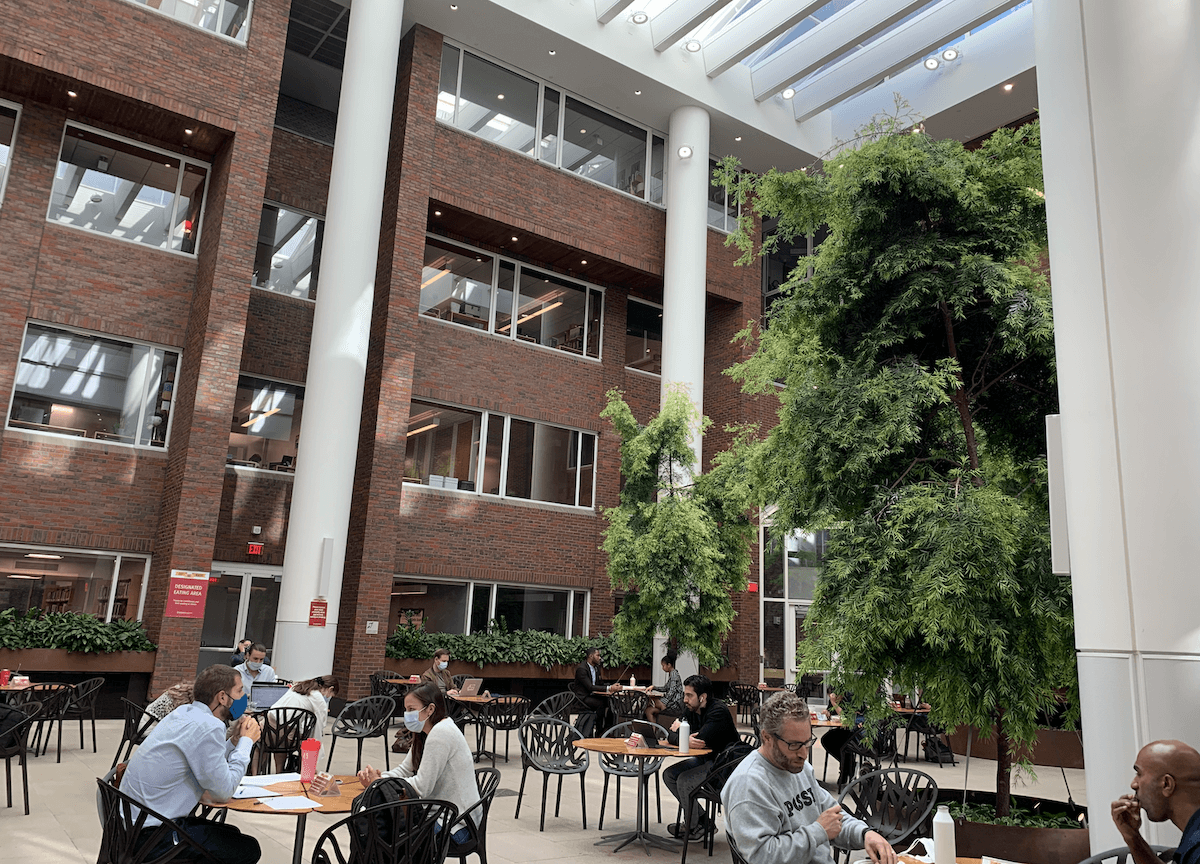 Undergrads are welcome to cross-enroll in most classes taught at other Harvard graduate schools, including HKS.
At first, it was intimidating to sit in a classroom filled with graduate students. But attending office hours with the professor and getting to know the other students better after class helped assuage my doubts.
The Kennedy School is also a place where I can spend my Board Plus, which is essentially free money that Harvard gives us to spend at designated locations on campus. It's a total of $65 per semester, and is a great excuse to buy granola bars and other snacks.
I tried a chia seed blueberry cobbler -- A solid 7/10.
1:30 pm – 1:15 pm: Lunch at Eliot House
After class, I swung by Eliot House for lunch. Eliot is Kirkland's sister house (it's located literally right next door), and is one of the 12 houses where upperclassmen (sophomores through seniors) live.
I love eating lunch at Eliot because the porch is beautiful and the house is conveniently located close to the Yard and the Charles River , but also removed from the chaos and bustle of Harvard Square .
Many of the Harvard houses used to have specific characteristics and reputations before they instituted a randomized sorting policy. If you're interested, you can read more about some of the house reputations here .
2:30 - 5:30 pm: Studying in the Smith Center
After lunch, I decided to head to the Smith Student Center in Harvard Square to do some studying and get my readings done for later in the week.
Smith is an interesting cross section of Harvard because anyone from any of the Harvard schools -- undergrads, graduate students, postdocs, faculty, staff, etc. -- can go to Smith to work, and the main section is open to the public.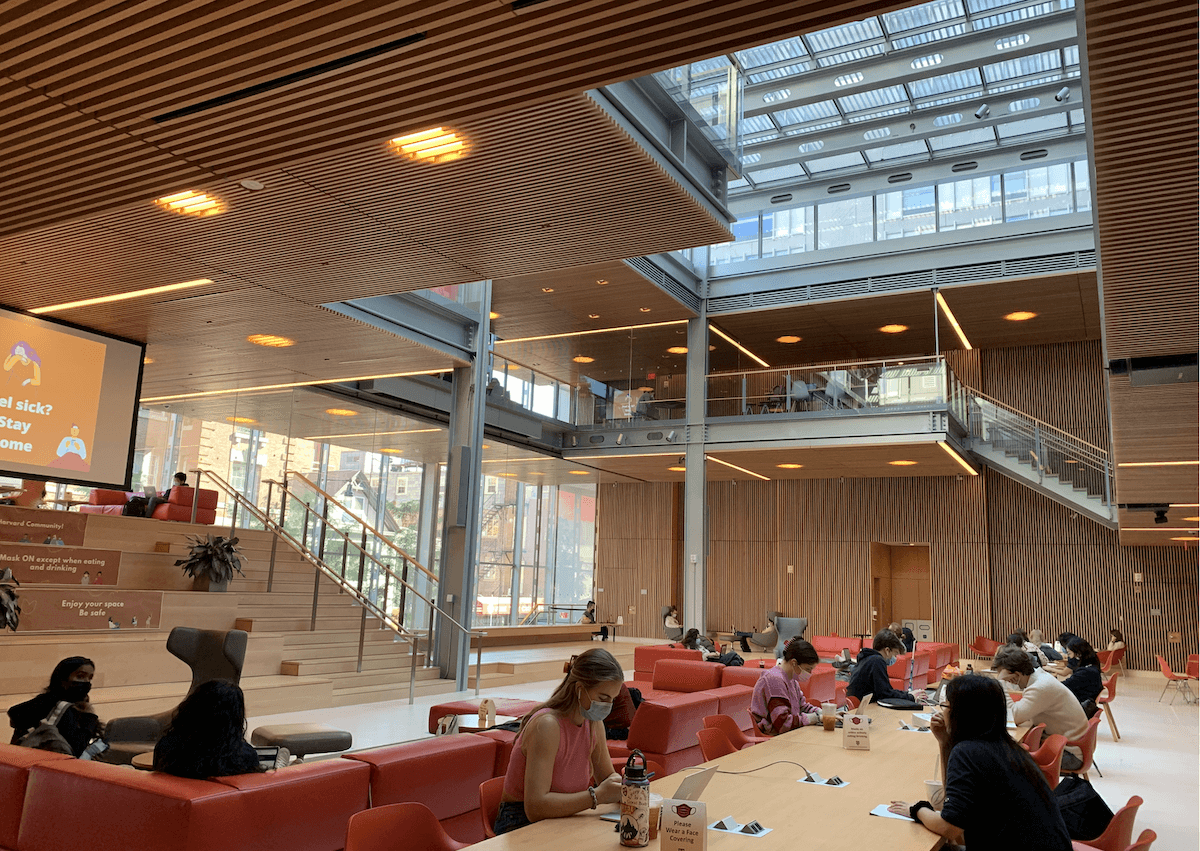 I especially enjoy studying on the 10th floor because there are beautiful views of the Harvard campus and surrounding Cambridge area.
Only people with a valid HUID can access the 10th floor, but I snapped a picture of the view to give you a sneak peak below!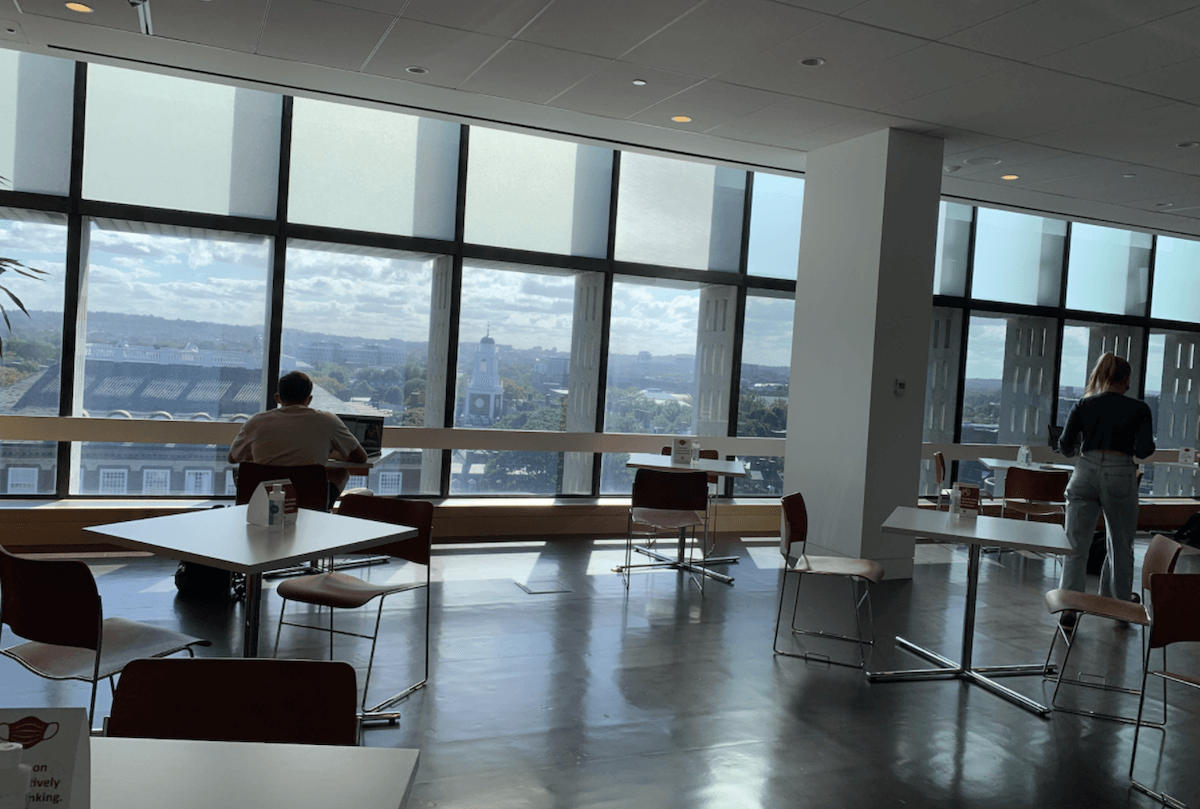 5:45 - 6:30 pm: Dinner in Kirkland
After studying for a bit, I decide to head home to Kirkland House for dinner.
The Kirkland Junior Common Room is one of the spaces on campus that makes me extremely grateful to be a student at Harvard. Wood paneling, velvet curtains, oil paintings, ornate chandeliers -- this room really has it all.: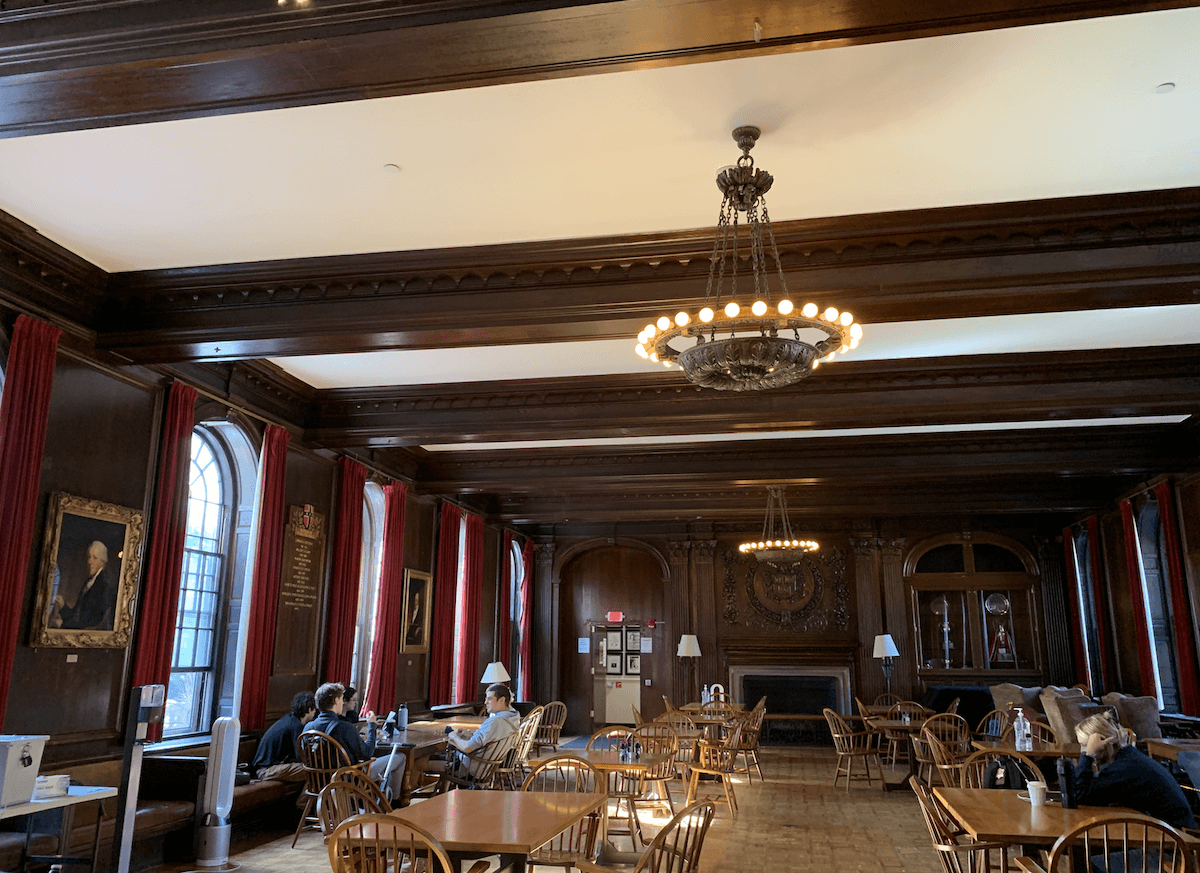 I met a friend for dinner and we decided to eat in the junior common room because there had been some COVID-related reshuffling of the regular dining room.
6:45 - 7:30 pm: After dinner walk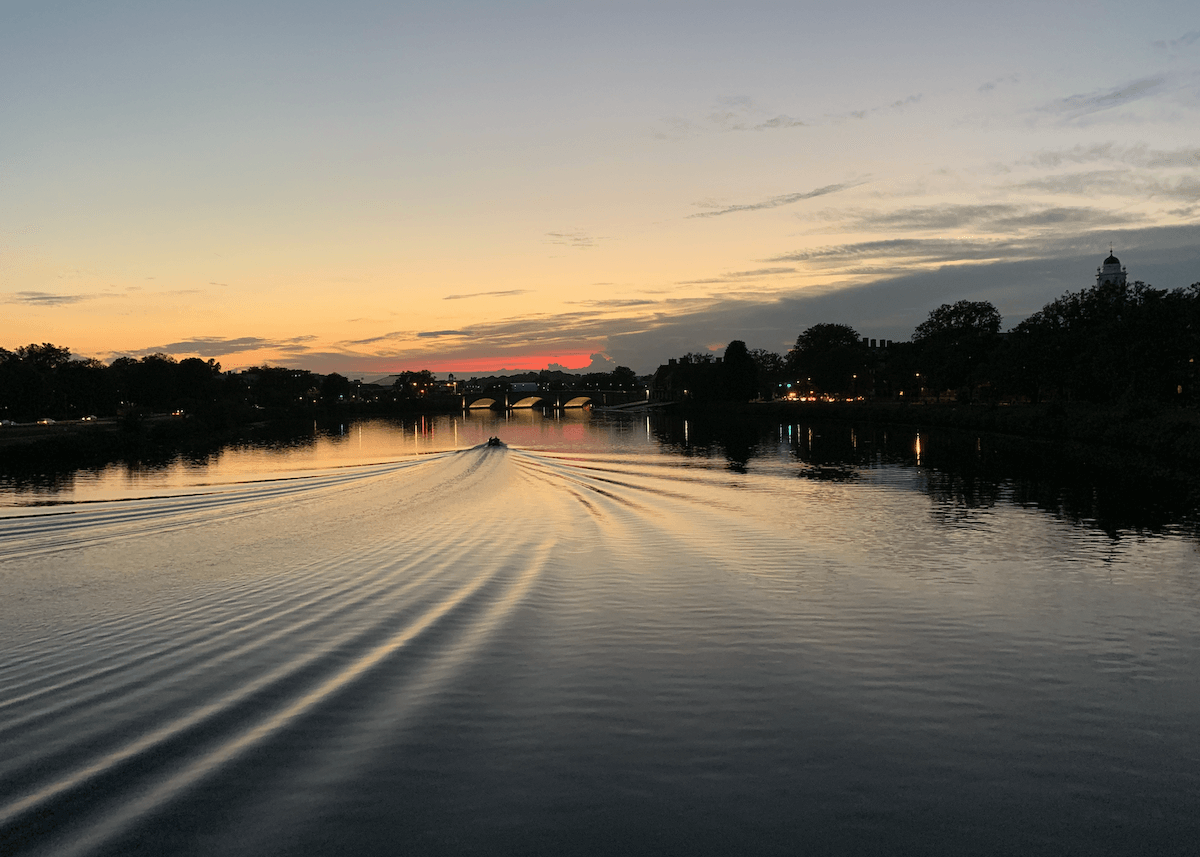 After dinner, my friend and I walked around campus a bit and watched the sunset from Weeks Bridge , pictured above.
It was a beautiful end to the day!
Weeks Bridge can be found full of Harvard students and Cambridge residents watching the sunset most evenings.
The sunset last night was especially beautiful with the pink and orange clouds. I find that taking a walk before I start my homework helps me recenter my focus and recharge.
7:45pm - Midnight: Homework and studying
I spent the rest of the night studying and working on homework.
I usually try to go to bed by midnight, but that doesn't always happen.
Anyway, thanks for spending the day with me! From Harvard Yard to upperclassmen houses like Eliot and Kirkland, to the Smith Center and Weeks Bridge, I hope you got a better sense of what a "day in the life" might look like for you as a Harvard college student!