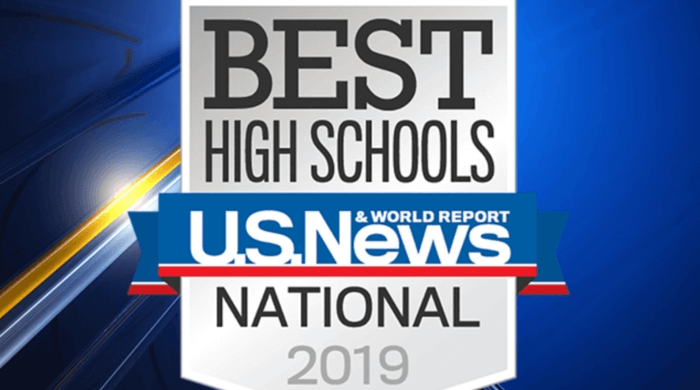 The conventional wisdom on how going to a competitive, top prep school affects your college admissions chances is wrong.
The downsides of "being a small fish in a big pond" during high school doesn't matter. When it comes to admissions chances for top colleges, students of prestigious private schools have a clear statistical advantage over students from public high schools.
According to MarketWatch, 94 of the top 100 feeder schools to Ivy League institutions were private.
Overall, the benefits of going to a well-resourced prep school tend to outweigh the drawbacks of increased competition from your peers.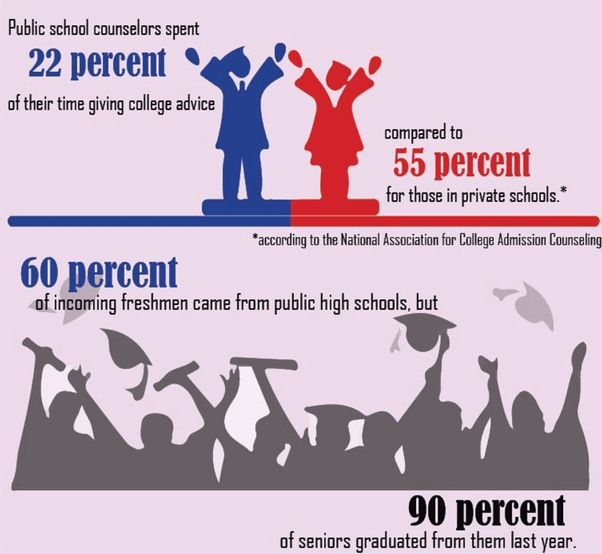 There are a few reasons for this.
(1) Private schools have more money, resources, and experience to throw at high-achieving students applying to elite colleges. As former Dean of College Admissions Jason England writes,
"A prep school applicant curated by elite counselors, tutors, essay writers, and a manipulative school profile is routine, even though it inspires less backlash.

Private schools create applicants who are difficult to reject.

The candidate is "prepared" (the assumption is that private schools' courses are more rigorous), has a relatively high SAT score (a reflection of parents' incomes and education levels), and is touted by carefully crafted recommendation letters from counselors who have many fewer students and far more resources than their public school counterparts."
(2) Students can take advantage of more opportunities at top prep schools.
As University of Georgia Professor Greg Woniak, who specializes in higher education, writes:
"Attending a high school that is a known pathway to institutions like Princeton has a direct resource benefit for [a] student. In some ways, it can serve to offset other deficiencies a student might have if they're not the strongest."
Imagine if your high school looked like this (Philips Andover):
And had the following academic opportunities, as reported by The Daily Princetonian :
Flip through the pages of elite high schools' catalogs, and it's easy to find exotic course titles that the average Joe wouldn't see until their later years of higher education.

Multivariable calculus and linear algebra — subjects normally reserved for college sophomores or juniors — are widespread among moneyed high schools.

Thomas Jefferson students can take electrodynamics and differential equations. Phillips Academy Andover offers organic chemistry. Stuyvesant High School teaches artificial intelligence.
(3) According to The Atlantic, grade inflation is more rampant and second chances are more frequently afforded at private schools, and thus students' transcripts look better.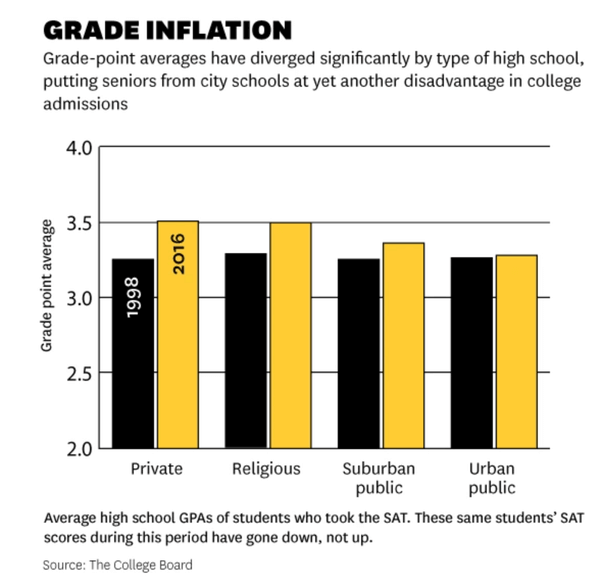 That's why in 2015, the top 14 private high schools in the US had an average of 33% (!!) of their graduating classes attend an Ivy League college.
In order, they are:
Trinity, NY (Percent admitted to Ivy League: 40%)
Collegiate, NY (40%)
Brearly, NY (37%)
Horace Mann, NY (36%)
Roxbury Latin, MA (36%)
Phililips Academy Andover, MA (33%)
The Spence School, NY (33%)
The Winsor School, MA (31%)
Dalton, NY (31%)
St. Paul's, NH (30%)
Chapin, NY (30%)
Harvard-Westlake, CA (30%)
Phillips Exeter Academy, NH (29%)
The College Preparatory School, CA (29%)
---
But that's not the full story...
The above numbers make things look better than they actually are for public schools.
That's because the vast majority of public school spots go to students from highly selective exam schools and charter public schools, not students of schools you'd typically think of as "public schools."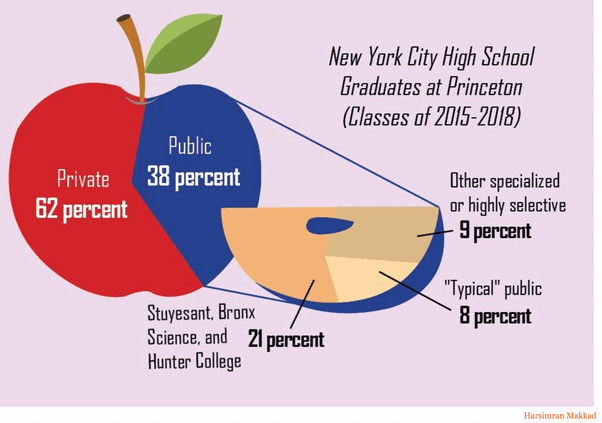 These are public high schools like Stuyvesant, Bronx Science, and Boston Latin.
They have rigorous admissions standards, with even lower acceptance rates than Stanford, Harvard, and MIT! These nominally "public" schools will typically send 10–25 students to Harvard every year.
That's how you get stats like this at Princeton in 2020:
One in 20 undergraduates at the University, for example, came from just five high schools. Four of them were world-class magnet schools, and the other was the $69,000 per year Lawrenceville School.
And this stat from a 2017 article in The Crimson :
In total, one out of every 20 Harvard freshmen attended one of the seven high schools most represented in the class of 2017—Boston Latin, Phillips Academy in Andover, Stuyvesant High School, Noble and Greenough School, Phillips Exeter Academy, Trinity School in New York City, and Lexington High School.
And the below chart of Harvard's 2017 admissions, which shows that the top 10% of high schools sent almost a third of the student body to Harvard: