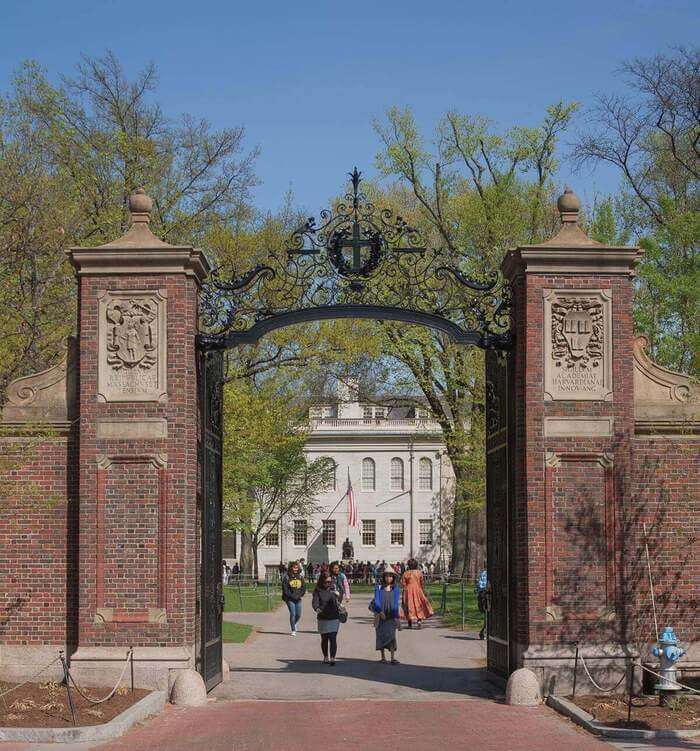 Every tourist goes on a campus tour, wanders through Harvard Yard, and rubs John Harvard's foot.
They don't know what they're missing.
There are a lot of great spots on Harvard's campus that tourists don't really know about, and are much more relaxed, beautiful, and chill than the usual tour stops.
My favorite underrated, publicly accessible places at Harvard are (in no particular order):
A view of Eliot House (an undergraduate dorm) from across the Charles River (Image Source)
1. The Charles River
Taking a stroll down the Charles River front can be a beautiful experience during the spring, summer, and fall. Walking along the River near campus, you'll be able to see most of the River Houses (e.g. Eliot, Dunster, Winthrop). Crossing the River will get you to the Business School, which has even more beautiful architecture and grassy lawns than the red brick undergraduate dorms across the River.
Food trucks and tables full of students studying between classes crowd the Science Center Plaza at noon. (Image Source)
2. The Science Center Plaza
There's seemingly always something happening on the Plaza, whether its the bevy of delicious food trucks selling lunch every day or the random events that Harvard hosts as part of its Common Spaces initiative. There's also a local farmer's market every week, and many student organizations host events/activities in the Plaza. If you come at the right time you might stumble on something fun happening!
A collection of Enlightenment-era scientific instruments which helped revolutionize humanity's understanding of the world, on display in the Science Center (Image Source)
3. The Collection of Historical Scientific Instruments.
Hidden in the Science Center, this small museum has a really cool assortment of scientific instruments that you won't be able to find anywhere else. It's usually pretty empty and not many students even know about it, so definitely recommend checking out this hidden gem while on campus.
Radcliffe Yard (Image Source)
4. Radcliffe Yard.
This is where Admissions tours are handled, so you may stumble across this picturesque part of Harvard's campus anyway. If not, I definitely recommend walking through Radcliffe Yard. I have never seen such perfectly manicured lawns in my life. It used to be Radcliffe College before the two institutions merged to become just "Harvard." Now, it is the Radcliffe Institute for Advanced Study. (Note: Some students incorrectly refer to this as the "Radcliffe Quad." It is not, however, the same as the "Quad" that most Harvard students reference — the other "Quad" is a 15 minute walk away, and houses upperclass dorms).
Langdell Hall, the Law School's main library, is the largest academic law library in the world and the largest building on the Law School campus. (Image Source)
5. Law School / Business School campus
Though on opposite ends of campus (the Law School is north of Harvard Yard, while the Business School is across the Charles River to the south of campus), it would be a mistake not to visit these two graduate school campuses while visiting Harvard College. You won't be able to enter the buildings, but the lawns and campus spaces are beautiful to walk through nonetheless.
Artifact on display in Harvard's Peabody Museum. (Image Source)
6. The Peabody Museum
This is more widely known, but most tour groups don't stop by there for some reason. One of the world's oldest museums focusing on anthropology, you should make sure you check out the Peabody's world famous archaeological exhibits while you're on campus.
Glass flowers on display at the Harvard Museum of Natural History (Image Source)
7. Harvard Museum of Natural History
This museum houses arguably the most famous exhibit on Harvard's campus, Leopold and Rudolf Blaschka's "Glass Flowers." The exhibit is a collection of over 4,300 meticulously crafted glass replications of over 780 plant species. Again, most students won't take advantage of this during their time at Harvard, but having gone I can say with 100% confidence that you'll be missing out if you don't pay this exhibit a visit.
Portrait of President George Washington, housed in the Harvard Art Museum. (Image Source)
8. Harvard Art Museum
Harvard technically has three separate art museums (the Fogg, Busch-Reisinger, and Sackler). However, their collections were combined into one building, and thus functionally they are the same museum. The Harvard Art Museum is a beautiful building, and is usually pretty quiet — students usually only come there to study, attend lectures in the basement, or look at art for a seminar. There aren't a ton of publicly displayed pieces, but the collection spans several floors and can make for an enjoyable afternoon.