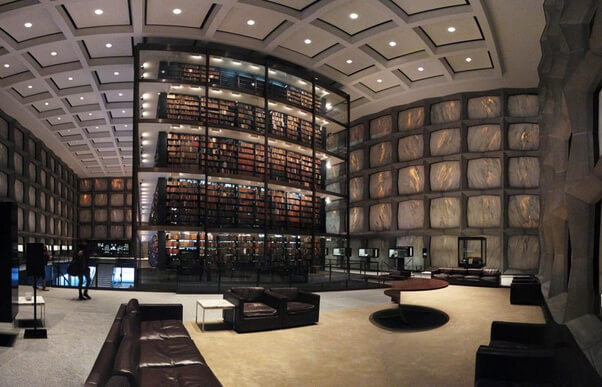 We asked our team of Ivy League editors:
If you could spend just 1 hour as a student at each of the 8 Ivy League schools, what would you do at each one?
Here are their answers.
Harvard
As a student at Harvard, I've been lucky enough to spend multiple hours in Cambridge! However, if left just one, I would go see some of the amazing speakers that draw huge crowds weekly. As a professor once remarked to me: "You come to Harvard and the world comes to you."
Yale
Being stuck in the middle of New Haven, CT doesn't mean there aren't amazing things going on at campus. I would go browse the shelves at Beinecke Rare Books Library.
Dartmouth
Dartmouth is often thought of as the inspiration for Animal House but surprisingly offers amazing opportunities that don't involve binge-drinking. In an hour, I would check out the HOP (Hopkins Center for the Arts) and see a show.
Columbia
Despite being in NYC, Columbia's breathtaking campus is a sight in itself. Not to copy my answer for Yale, but Butler Library is far and away the most enticing building on campus. I'd grab a cup of coffee at the library's cafe and do some people watching!
Princeton
At Princeton, I would visit a spot at Whitman College that is known for its echo effect. As explained by a student:
If you have a chance, swing by the north Whitman courtyard and have some fun shouting at yourself! Just find this circle of steps, stand right in the middle of the black plaque, face out into the courtyard, start talking really loudly, and you'll be pleasantly surprised by an echo ringing back to you.
University of Pennsylvania
The University of Pennsylvania hosts WXPN 88.5 FM , a listener supported radio broadcast from its campus. I would check out the student interns and staff members that keep the station running.
Brown
At Brown, I would head to the Institute at Brown for Environment and Society (IBES). IBES researches Conservation Science, Land Change Science, Climate Science, Environmental Health, and Institutions and Human Behavior — and their building is pretty awesome as well!
Cornell
With it being winter in cold Ithaca, I would partake in a student tradition and go sledding on Libe Slope. Pictured below, it offers the perfect trajectory for a fun snowy ride!