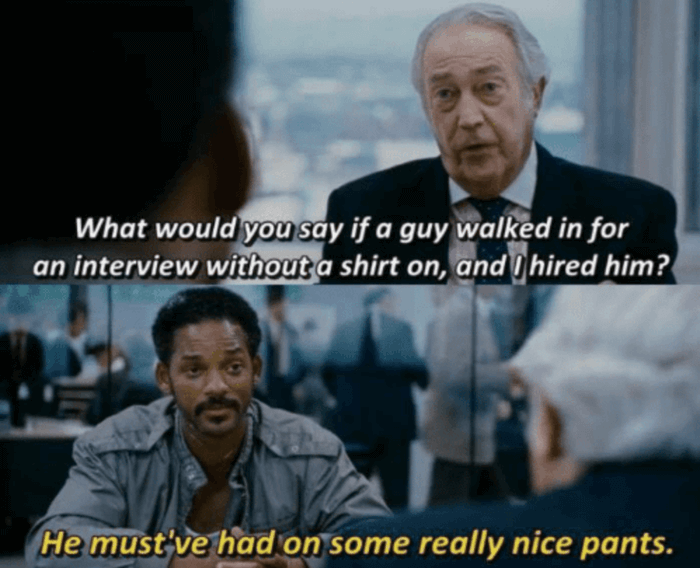 How do I answer "gotcha" questions during a college alumni interview?
The typical answer is that most interviewers won't try to give you "gotcha" questions. Their primary job is to get to know you better, and to add color to your admissions file, not to make you look foolish.
The real answer? If you don't adequately prepare for your interviews, then every question will feel like a "gotcha" question no matter how simple they seem.
So how do you avoid that?
In this article, I'll first explain how to properly handle 3 simple questions that often become "gotchas" for unprepared high school interviewees.
Second, I'll show you how to handle "gotcha" questions in general, and explain the simple process for turning difficult, tricky questions into softballs you can knock out of the park.
The 3 Most Common "Gotcha" Questions
1. "Tell me about yourself"
Because this question is so simple and obvious, the expectations for your answer are sky high.
If you can't deliver a coherent, 2-minute story about yourself, your motivations, and how you intend to use the next four years of college to explore those interests, then you haven't prepared enough.
The trick?
Look at (or create) a resume of your most notable achievements/experiences in high school. Once you get that on paper, go through the list and practice telling one coherent, unified story of your experiences.
Time yourself. Practice reciting your story out loud with a friend or parent.
By the time of your interview, you should basically have this story memorized.
That's how you'll know if you've prepared adequately enough.
2. "Do you have any questions for me?
Trick question.
There is only one answer, and it's always Yes.
You should prepare some specific questions about the college in advance.
If you run out of specific questions, fill in the blanks below by mix-and-matching words from Group A and B:
What was your A B ?
A: Favorite, least favorite, most memorable, most unexpected, most surprising, most popular, least popular, most enjoyable, least enjoyable, most unusual, most common, least common
B: Class, extracurricular, club, volunteer activity, academic experience
3. What would you change about your high school/extracurricular/class you've taken?
Don't fall for the negativity trap.
The trick here is to stay positive .
There are 2 parts to this question:
Identify a problem you've encountered

Say how you would solve it
It's all too easy for your answer to Part #1 to be overly negative and critical of the status quo.
Don't use this question to bash your teachers or fellow students. That reflects poorly on you.
It takes practice to toe the right line, but the key theme that should come across in your answer is your positivity (even when faced with a negative situation), problem-solving skills, and initiative.
The General Strategy for Tricky Interview Questions
What if you get a truly "gotcha" question that you couldn't have possibly prepared for?
One wrong answer can ruin an interviewer's impression of you.
The trick to answering tricky questions is to go with the flow. Easier said than done, yes, but a skill that can be learned.
Out-of-the-box questions require out-of-the-box responses . If you take yourself too seriously, you won't be able to give a good answer to these sorts of questions.
Let's take the above scene from Will Smith's The Pursuit of Happiness as an example.
Will Smith's character is interviewing for a job at a white collar finance firm.
He's severely under-dressed.
The interviewer pointedly asks him:
"What would you say if a guy walked in for an interview without a shirt on, and I hired him?"
Why is this question a "gotcha"?
It's posed fairly rhetorically — the premise is that hiring someone dressed like Will Smith would not be smart , and thus he should not be hired. The question is delivered to make it seem like the answer is obviously "no."
Any answer that takes this question at face value would implicitly be acknowledging and accepting this, damaging Will Smith's chances of landing the job.
The best way to defuse a "gotcha" question is to identify the premise that makes it a "gotcha," and then deflect from that premise.
So, instead, Will Smith flips the question on its head.
What if the premise were false? What if hiring someone without a shirt was actually the smart move?
And that's why the answer:
"He must've had on some really nice pants."
Comes off so well.
Use this strategy in your college interview if asked a "gotcha" question.
For example, in the question:
"What did you dislike most about your school?"
The underlying assumption is that there is something wrong with your school. Maybe a teacher you hated, or a class you thought was terrible.
That's a fairly negative premise, and one that will reflect poorly on you if you use this opportunity to bash your teachers or fellow students.
Flip the premise on its head.
Don't list things that are wrong about your school.
Instead, list ways that you've improved your school.
Or, list things at College X that you are excited about since your school did them differently.
The content of your answer will be similar, but by re-framing your answer in a more positive light, you can avoid the trickier nature of these critically-oriented questions.